Screenings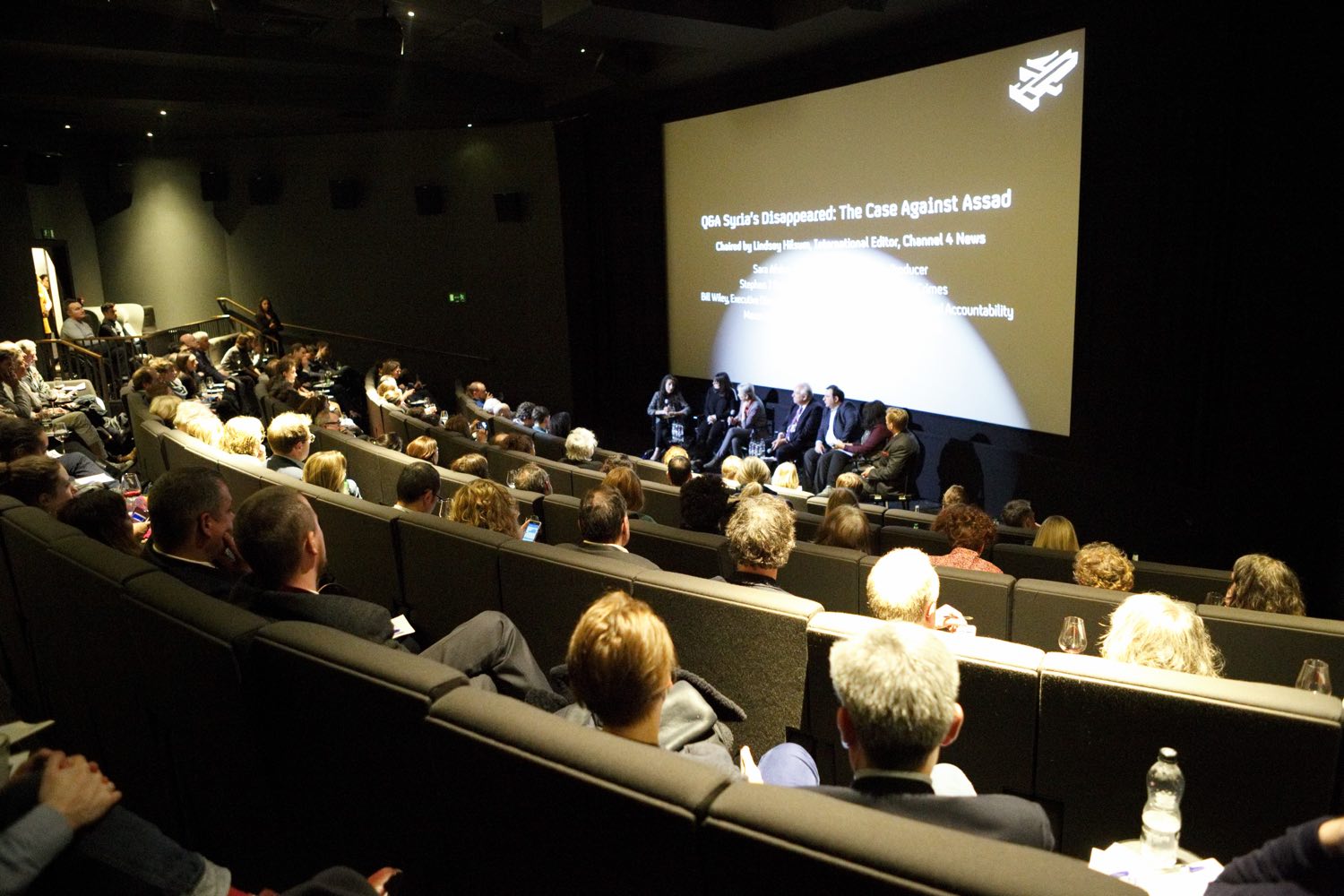 Organise a Screening
We want the film to be seen and discussed as widely as possible. As the film is around 50 minutes, it's the perfect length for events with a discussion afterwards.
If you would like to organise a screening then please email us:
We charge a license fee for all screenings, but this is set according to the means of the individual or group arranging the event. Whilst we would love to provide the film for free, we need to charge a fee in order to help recoup the costs of the film's production and to cover the expenses of our screening programme.
Past Events
London Premiere, Curzon Bloomsbury, 6th March 2017
Channel 4 introduced the film's premiere. Guests included Jimmy Wales, Lily Cole and Peter Tatchell. Journalists, filmmakers, NGOs, politicians and Syrian civil society groups also attended. There was a discussion chaired by C4's International Editor Lindsey Hilsum with director Sara Afshar, co-producer Nicola Cutcher, Stephen Rapp, Bill Wiley and Syrian lawyer Mazen Darwish.
Darwish spoke very movingly at the event, saying that sometimes he feels guilty for surviving his detention, while others haven't. He also said, "The film is exquisitely made. It tells the story of my colleagues Ayham and Mansour. I burst into tears twice and breathed the air of the peaceful demonstrations".
FIFDH, Geneva, 13th March 2017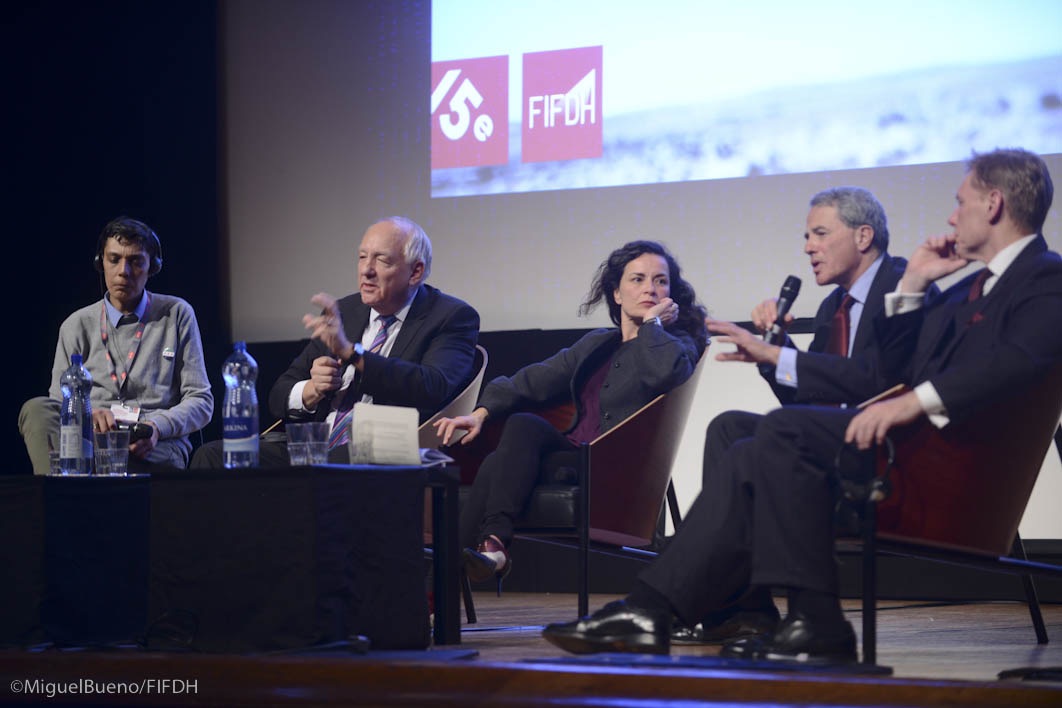 Screened to a sold-out audience of 450. A discussion chaired by Charles Glass featured the film's contributors: Mazen Alhummada, Stephen Rapp, Bill Wiley and Almudena Bernabeu. Filmmakers Sara Afshar and Nicola Cutcher also contributed to the discussion. Mazen Alhummada received a standing ovation from the audience when he took to the stage following the film – an incredible moment.
US Premiere, Holocaust Memorial Museum, 10th May 2017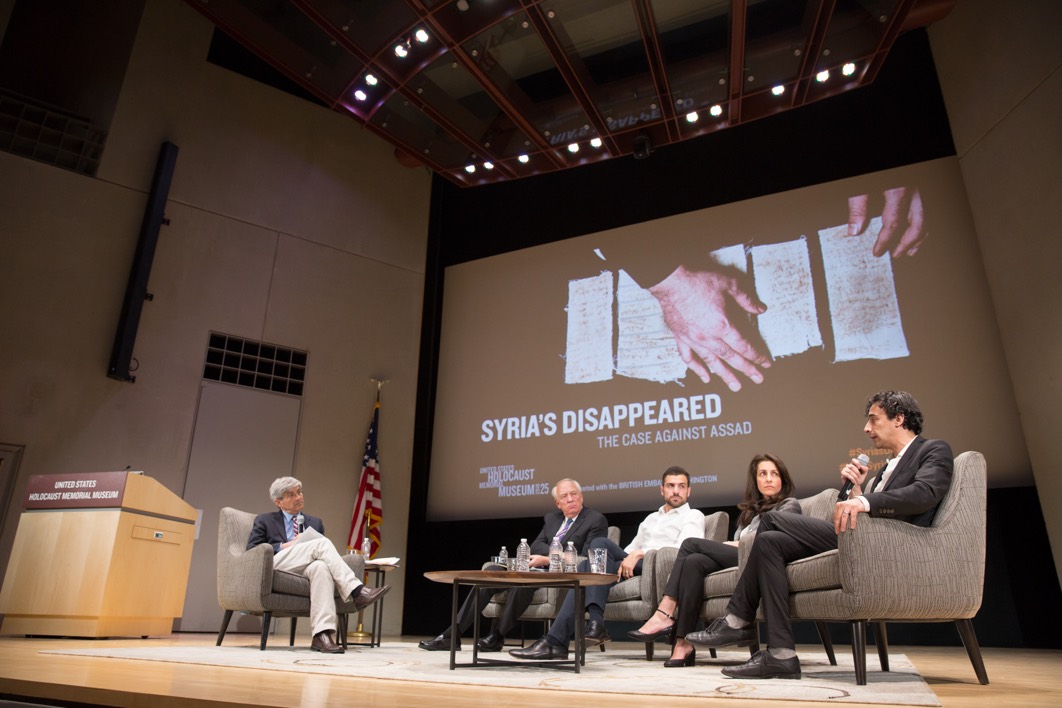 The Holocaust Memorial Museum in Washington DC hosted the film's US premiere in partnership with the British Embassy. Mike Isikoff, chief investigative correspondent for Yahoo News, chaired the discussion (video here) following the screening. Isikoff's own interview with President Assad is featured in the film, where he confronts the President directly with the Caesar photographs. Two former Syrian detainees, Qutaiba Idlbi and Mahmoud, spoke very powerfully about their experiences in detention. Stephen Rapp and director Sara Afshar also contributed to the discussion. We were honoured to be joined by Taufik Hallak, a Syrian broadcaster who is the brother of Mariam Hallak, one of the main interviewees in Syria's Disappeared. Taufik read a message from Mariam to the audience.
The following day the film screened at the French Institute in New York to a packed audience. This event was co-hosted by Human Rights Watch, the Delegation of the European Union to the United Nations and the Cultural Services of the French Embassy. Ken Roth, Executive Director of Human Rights Watch, moderated the discussion with former detainee Mahmoud, Stephen Rapp and the filmmakers Sara Afshar and Nicola Cutcher.